SOG Recon Bowie – SBR80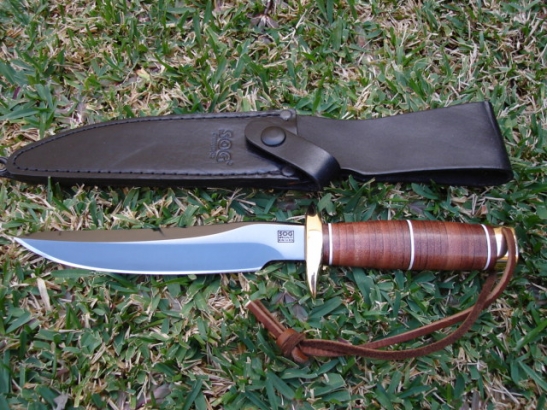 SOG Knives Collectors' Recon Bowie Review/Take:
The SOG Recon Bowie, in the view of most SOG collectors, is the most interestingly-shaped and sexiest knife that SOG ever produced. One cannot escape the beauty of its gun-blued polished blade, coupled with its leather washer handles, gleaming brass guard and butt. It is the most elegant knife of all the Seki Japan SOGs. The "Vietnam-era Recon Knife" shape is an especially attractive and collectible one, and some companies have sold knives based on that design, for example Randall and SOG. See the Randall Recon Knife.
According to previous accounts of army veterans, most combat knives had a blade length of around 6 inches. However, fierce close-quarter hand-to-hand combat in Vietnam by the MACVSOG Special Forces soldiers saw them requesting an additional inch of blade for an edge (pun intended) over their enemies. This knife is a must-have in every SOG knife collector's collection. It is one of the SOG knives that feature both the old (square SOG) and new (split-bullet) SOG logos. Owners of this knife cannot stop singing praises about the wicked edge this knife keeps and the great shape it has. Sleek and deadly indeed. This is the reason why it is one of the most sought after SOG knives today and one of those that sell at high prices. Check out the Recon Bowie (Damascus) which was a limited edition production of the Recon Bowie in exotic damascus steel.
Copyright © Notice: If you plan to use our information (eg. selling your knife on Ebay), please cite our website by saying "Information taken from: http://www.sogknivescollectors.com" or mention our website.
Specifications:
Blade Length: 7 in. x .225 in.
Overall length: 12 in.
Blade Steel: Sk-5 Carbon Steel
Blade hardness: Rc. 57-58
Blade Finish: Gun-blued
Weight: 11.75 oz.
Edge: Plain
Carry System: Leather sheath w/Sharpening Stone
Handle material: Epoxied Stacked Leather
Knife Type: Fixed Blade
Country of origin: Japan
Part #: SBR80
Rarity Details:
Last Known MSRP: $<.>
Production dates: 2000 – 2008
Production numbers: ?
Limited run?: No, but knives with the "20th Anniversary logo"kare a little hard to find
Other things of interest: Has a brass guard and butt.
Rarity index: 8.5/10 (10 being the most rare)
Rarity index scale (1 to 10, 10 being the most rare):
1 – Very common; easily available on ebay, google product search and almost every knife selling website. Spammed with at least 10+ listings on ebay.
3 – Has been around for at least 2 years and are selling reasonably well, with retailers favouring other newer models over this knife.
5 – Knives that are on the borderline of being discontinued or have been discontinued for less than 6 months
6 – Products from 6 onwards are either discontinued or limited edition.
7 – Discontinued knives that pop up once every few months on the "For Sale" part of forums or on ebay. Still can be found at a few online shops though.
8 – Knives that need lots of researching to find. Not available anymore in online knife shops and pop up (if you're lucky) >4 months for one at a time.
9 – Knives holding this rarity are the shadowy kind. You can't find any information on them at all (not even from online knife shops that have not taken down that knife's product page). If you see one for sale grab at all cost.
10 – The rarest of all knives. If you hadn't been here you wouldn't even have known that it existed. Should you have one of these you better lock it up in a triple-combination safe and treat it like a family heirloom..
Product Description:
The original Recon Bowie was secretly designed for SOG's clandestine and cross-border Recon teams that saw vicious, close-quarter combat. Today, there are only a handful of these extremely rare and valuable knives remaining. An exquisite design, the SOG Recon Bowie captures the essence of this unique fixed blade.
Elongated grind lines abound on the SOG Recon Bowie's flat ground blade. Like the original SOG Bowie, it is created with the same high-carbon, SK5 steel and gun-blued for rust inhibition and stealth. The brass crossguard and pommel enhance its beauty and utilitarian design while an epoxied leather handle and spanner nut provide excellent balance and feel. The SOG Recon Bowie's high-quality leather scabbard and wrist thong further adds to its authenticity, making this classic blades a useful and stunning knife to own and carry.
Pictures:
Page last updated: Sunday, July 29, 2012 20:19:02 PDT
---