SOG SCUBA/Demo – SSD89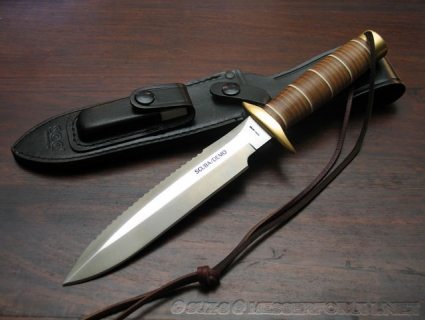 SOG Knives Collectors' SCUBA/Demo Review/Take:
The SCUBA/Demo knife is a reproduction/replica of one of the rarest Vietnam military knives ever made to date. Of the original batch of 39 knives made, only 1 out of the lot has survived till this day. SOG has revived this knife by producing a copy that is made as close as possible to the original knife, except for a few shape changes. The fact that it is sharpened on both sides makes it illegal to own in some states and countries. It can't really be classified as a 'dagger' because the area forward of the serrations (aka teeth) is not sharpened. So basically it is a normal knife with sawback teeth on the other side, much like a Rambo style knife. This very design is a very unique and purposeful one, and an interesting one at that. Originally designed during the Vietnam War era a diving knife, the SCUBA/Demo has a straight edge to cut, and a serrated edge to saw through thick rope.
Nevertheless for those lucky enough to own it, it is a sight to behold. IMHO leather handles with brass makes this knife a very handsome and classic 'Vietnam era' knife. Another must have in the SOG collection. It is also the only old model that has its model name engraved on the knife – "SCUBA/DEMO" on centre right of the blade. There was a limited run Damascus steel version of the SCUBA/Demo knife; see it here: SCUBA/Demo (Damascus)…
Copyright © Notice: If you plan to use our information (eg. selling your knife on Ebay), please cite our website by saying "Information taken from: http://www.sogknivescollectors.com" or mention our website.
Specifications:
Blade Length: 7.25 in. x .230 in.
Overall length: 12.25 in.
Blade Steel: AUS-8A
Blade hardness: Rc. 57-58
Blade Finish: Satin
Weight: 13.0 oz.
Edge: Straight on one side, serrated teeth on the other (area forward of serrations to tip not sharpened)
Carry System: Leather sheath w/Sharpening Stone
Handle Material: Epoxied Stacked Leather
Knife Type: Fixed Blade
Country of origin: Japan
Part #: SSD89
RARITY DETAILS:
Last Known MSRP: $<.>
Production dates: 2001 – 2008
Production numbers: ?
Limited run?: First 250 knives were serialized. Knives with "20th Anniversary logo" are a little hard to find.
Other things of interest: Brass guard and butt
Rarity index: 8/10 (10 being the most rare)
Rarity index scale (1 to 10, 10 being the most rare):
1 – Very common; easily available on ebay, google product search and almost every knife selling website. Spammed with at least 10+ listings on ebay.
3 – Has been around for at least 2 years and are selling reasonably well, with retailers favouring other newer models over this knife.
5 – Knives that are on the borderline of being discontinued or have been discontinued for less than 6 months
6 – Products from 6 onwards are either discontinued or limited edition.
7 – Discontinued knives that pop up once every few months on the "For Sale" part of forums or on ebay. Still can be found at a few online shops though.
8 – Knives that need lots of researching to find. Not available anymore in online knife shops and pop up (if you're lucky) >4 months for one at a time.
9 – Knives holding this rarity are the shadowy kind. You can't find any information on them at all (not even from online knife shops that have not taken down that knife's product page). If you see one for sale grab at all cost.
10 – The rarest of all knives. If you hadn't been here you wouldn't even have known that it existed. Should you have one of these you better lock it up in a triple-combination safe and treat it like a family heirloom..
Product Description:
The Scuba/Demo is the rarest of the SOG knives in existence. In fact, only one is known to exist today. Originally, 39 were made and 38 of these were delivered to the Naval Advisory Detachment for missions on the North Vietnamese coastline. They were issued to OPLAN 34 ALPHA in 1964 at which time 36 were lost in operations and two were never seen again.
We are now offering enthusiasts the chance to own an intricate reproduction of that beautiful knife. Whatever shortcomings the original had have been vastly improved to make it not only a collector's prize, but also a high-quality, functional knife that one would be proud to own and use.
Note: Although SOG has reproduced this Vietnam War era knife according to the original specs, use of the SCUBA/Demo as a diving knife will greatly reduce the longevity of the leather washer handle.
Pictures:
Page last updated: Thursday, July 19, 2012 14:04:02 PDT
---