SOG Tigershark (Powdered) – S5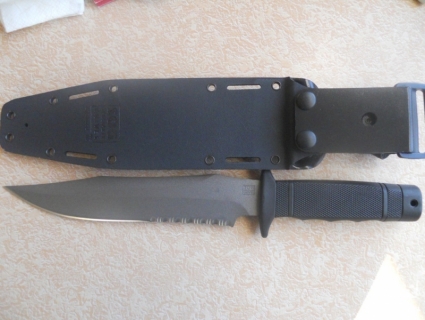 SOG Knives Collectors' Tigershark S5 (Powdered) Review:
This is the largest model SOG has created to date, and is also one of the longest powder-coated knives around. What originally started as the SK-5 steel satin-finished Tigershark slowly transformed into the powder-coated (SK-5 steel) plain-edged Tigershark in 1997, followed by the powder-coated AUS-6 plain-edge Tigershark and finally the addition of serrations to the current Tigershark model in 1999. The Tigershark is the big brother of the "SEAL Knife 2000", which the US Navy SEALs used. This knife is lauded as a good chopper but some have commented on the use of AUS-6 steel which, though more resistant to rust, does not match up to SK-5 steel in terms of edge-holding properties and slicing ability. The serrations were not welcome by some too.
The interest in this knife rose as a result of its use in the TV series 'Lost'. It is featured numerous times being used by John Locke.
The Seki Japan version has been discontinued and replaced by a Taiwan made version that is nearly identical to the Japan made one.
SKC Note: The SOG Tigershark (Powdered) was originally named the 'SOG Tigershark' by SOG. However, our site and many collectors prefer to refer to it as the 'S5 Tigershark', or the 'Powdered Tigershark'. This is because the original satin finished Tigershark was also called the 'Tigershark' and SOG did not change its name when it switched to the powdered version with serrations.
Copyright © Notice: If you plan to use our information (eg. selling your knife on Ebay), please cite our website by saying "Information taken from: http://www.sogknivescollectors.com" or mention our website.
Specifications:
Blade Length: 9 in. x .250 in.
Overall length: 14 in.
Blade steel: AUS-6 (older production knives in SK-5)
Blade hardness: Rc. 56-57
Blade finish: Powder coated (for both Aus 6 and sk-5)
Weight: 17.1 oz.
Edge: Partially serrated (Newer models only. Older models had plain edge)
Carry System: Kydex sheath
Handle Material: Black Kraton handle
Knife Type: Fixed Blade
Country of origin: Japan
Part #: S5
Rarity Details:
Last Known MSRP: $<.>
Production dates: 1999-2008 (models with serrations)
Production numbers: ?
Limited run?: No.
Other things of interest: Newer models have the new "split bullet" logo vs old models with "square SOG" logo. Plain edge powdered Tigersharks are especially hard to find.
Rarity index: 8.5/10 (10 being the most rare)
Rarity index scale (1 to 10, 10 being the most rare):
1 – Very common; easily available on ebay, google product search and almost every knife selling website. Spammed with at least 10+ listings on ebay.
3 – Has been around for at least 2 years and are selling reasonably w%ll, with retailers favouring other newer models over this knife.
5 – Knives that are on the borderline of being discontinued or have been discontinued for less than 6 months
6 – Products from 6 onwards are either discontinued or limited edition.
7 – Discontinued knives that pop up once every few months on the "For Sale" part of forums or on ebay. Still can be found at a few online shops though.
8 – Knives that need lots of researching to find. Not available anymore in online knife shops and pop up (if you're lucky) & 4 months for one at a time.
9 – Knives holding this rarity are the shadowy kind. You can't find any information on them at all (not even from online knife shops that have not taken down that knife's product page). If you see one for sale grab at all cost.
10 – The rarest of all knives. If you hadn't been here you wouldn't even have known that it existed. Should you have one of these you better lock it up in a triple-combination safe and treat it like a family heirloom…
Product Description:
Don't worry about the one that got away, the SOG Tigershark took care of that small fish! This versatile field knife dominates on land or sea. The larger version of the SEAL Knife, it has a massive 9″ bowie-style blade that is powder coated and partially serrated. This striking knife is razor-sharp and strong with our deepest serration yet, so it easily takes on big or small cutting, slicing and chopping chores.
The Tigershark's contoured Kraton handle features aggressively textured scales for a solid and comfortable grip. Furthermore, forget the basket, this big fish carries in SOG's jump rated Kydex sheath.
Pictures:
Page last updated: Thursday, January 24, 2013 08:12:19 PST
---