SOG X-42 Recondo (Black TiNi)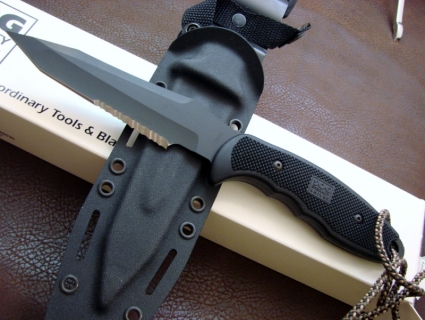 SOG Knives Collectors' X-42 Recondo (Black TiNi) Review:
Just like its other half, the SOG Recondo (black TiNi) coating is in every way similar to the X-42 Recondo except for its black Titanium-Nitride coating. Unlike the normal Recondos, the SOG Recondos (black TiNi) were only manufactured in BG-42 steel. Some people claim that the black TiNi coated Recondos are rarer as they are not as easily available compared to their satin-finished counterparts. This is largely due to the fact that the Recondo (black TiNi) were produced in fewer numbers and in only one steel.
Though a regular production model, the SOG X-42 Recondo (Black TiNi) is one of the knives that is not commonly seen after it was discontinued. It can be said that its production numbers were lesser than the other SOG knives as BG-42 still is an expensive and tough steel to work with, and especially hard-wearing on the manufacturing machines.
Copyright © Notice: If you plan to use our information (eg. selling your knife on Ebay), please cite our website by saying "Information taken from: http://www.sogknivescollectors.com" or mention our website.
Specifications:
Blade Length: 5.3 in. x .160 in.
Overall length: 10.5 in.
Blade Steel: BG-42 Stainless Steel
Blade hardness: Rc. 62-64
Blade finish: Black TiNi coated
Weight: 6.3 oz.
Edge: Partially Serrated
Carry System: Kydex Sheath
Handle Material: Zytel
Knife Type: Fixed Blade
Country of origin: USA
Part #: TRFB82
Rarity Details:
Last Known MSRP: $139.95
Production dates: 2000 – 2004
Production numbers: ?
Limited run?: No.
Other things of interest: These are reputably rarer than the non-black TiNi coated ones.
Rarity index: 9.5/10 (10 being the most rare)
Rarity index scale (1 to 10, 10 being the most rare):
1 – Very common; easily available on ebay, google product search and almost every knife selling website. Spammed with at least 10+ listings on ebay.
3 – Has been around for at least 2 years and are selling reasonably w%ll, with retailers favouring other newer models over this knife.
5 – Knives that are on the borderline of being discontinued or have been discontinued for less than 6 months
6 – Products from 6 onwards are either discontinued or limited edition.
7 – Discontinued knives that pop up once every few months on the "For Sale" part of forums or on ebay. Still can be found at a few online shops though.
8 – Knives that need lots of researching to find. Not available anymore in online knife shops and pop up (if you're lucky) & for 4 months for one at a time.
9 – Knives holding this rarity are the shadowy kind. You can't find any information on them at all (not even from online knife shops that have not taken down that knife's product page). If you see one for sale grab at all cost.
10 – The rarest of all knives. If you hadn't been here you wouldn't even have known that it existed. Should you have one of these you better lock it up in a triple-combination safe and treat it like a family heirloom…
Product Description:
In 1966, the MACV Recondo School was established to train Special Forces Units in long-range recon tactics and commando operations. Graduates of the school were capable of performing many duties including infiltrating into enemy-controlled territory for long periods of time without being resupplied. These highly skilled graduates were called Recondos and they exemplified courage and confidence. Thirty-four years later, the spirit of this school and its graduates is carried on in the X-42 Recondo which proudly bears the name. The X-42 Recondo combines SOG technology with state-of-the-art materials for a truly extreme configuration designed to meet the many challenges of todays world.
A SOG evolution in blade design, the X-42 Recondo features wicked grind lines that focus power on the edge and tip of the intensely sharp blade. The balance, feel and quickness of this knife are extraordinary. The Recondo's glass-reinforced Zytel handle is designed to provide maximum gripping, the ability to index quickly in low-light, as well as to move fluidly from front to reverse gripping positions.
These remarkable tactical advantages are combined with the most ultimate steel, BG-42 stainless. BG-42 stainless is the knife steel of the future. Used for years to make high-speed ball bearings and jet engine parts, it is exceptionally strong, corrosion resistant, and SOG tempers it to an outstanding Rockwell Hardness of 60. Due to its high cost, difficulty to manufacture and special cryogenic heat treating, BG-42 had not found its way into a production knife. We are the first production knife company to offer this incredible steel at an affordable price.
A knife this good should be carried in an equally good sheath. Our new Kydex sheaths exceed all previous standards. They are military belt and jump rated in adition to being quiet, self-draining and secure.
Pictures:
Page last updated: Monday, November 01, 2010 22:54:02 PDT

---