SOG Tomcat (Original)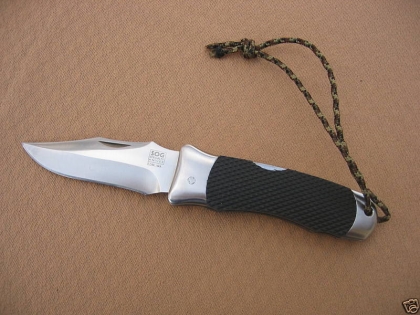 SOG Knives Collectors' Tomcat (Original) Review:
The SOG Tomcat is one of the largest folding knives from SOG. It features a thick blade of 0.2″ and is backed up by a solid lock. This makes it a heavy-duty folding knife, and though it weighs more than the average folding knife it will stand up to hard use. It was also one of the first folding knives to incorporate a bowie knife design into a folding knife, along the lines of the S1 Bowie. The SOG Tomcat also won 'Overall Knife of the Year' award in 1988, one of the first awards won by the company, for its great and unique design. Many owners particularly like this version of the Tomcat for its clean look and heavy duty lock, like many of SOG's early folders.
The Tomcat was and still is a popular design and has not dropped off the SOG production list. It is one of the most collectible SOG folding knives and the earliest version of the SOG Tomcat is hard to find, with the right engravings. Other versions include the Tomcat (Cocobolo) – limited run with Cocobolo wood handles, and updated versions such as the Tomcat II and the Tomcat 3.0.
Copyright © Notice: If you plan to use our information (eg. selling your knife on Ebay), please cite our website by saying "Information taken from: http://www.sogknivescollectors.com" or mention our website.
Specifications:
Blade Length: 3.75 in. x .200 in.
Overall length: 8.25 in.
Blade Steel: 440C Stainless Steel
Blade hardness: Rc. 57-58
Blade Finish: Satin-finished
Weight: 8 oz.
Edge: Plain
Carry System: Nylon, dual mounting scabbard
Handle Material: Kraton, raised point positive grips
Knife Type: Folding knife
Country of origin: Japan
Part #:
Rarity Details:
Last Known MSRP: <>
Production dates: 1986 – pre 2003
Production numbers: ?
Limited run?: No, but limited run only for Cocobolo handled model.
Other things of interest: The earliest of all SOG folders. Limited run of cocobolo handled Tomcats.
Rarity index: 8.5/10 (10 being the most rare)
Rarity index scale (1 to 10, 10 being the most rare):
1 – Very common; easily available on ebay, google product search and almost every knife selling website. Spammed with at least 10+ listings on ebay.
3 – Has been around for at least 2 years and are selling reasonably w%ll, with retailers favouring other newer models over this knife.
5 – Knives that are on the borderline of being discontinued or have been discontinued for less than 6 months
6 – Products from 6 onwards are either discontinued or limited edition.
7 – Discontinued knives that pop up once every few months on the "For Sale" part of forums or on ebay. Still can be found at a few online shops though.
8 – Knives that need lots of researching to find. Not available anymore in online knife shops and pop up (if you're lucky) >4 months for one at a time.
9 – Knives holding this rarity are the shadowy kind. You can't find any information on them at all (not even from online knife shops that have not taken down that knife%r7s product page). If you see one for sale grab at all cost.
10 – The rarest of all knives. If you hadn't been here you wouldn't even have known that it existed. Should you have one of these you better lock it up in a triple-combination safe and treat it like a family heirloom…
Product Description:
The state of the art in folding knives. Now you can have that bowie design you always wanted in a folder, giving optiimum performance and full range capability in virtualy every situation. This futuristic blade shape will cutlike a much larger knife and yet will fold to a small, sleek package for ease in carrying. The all high-carbon stainless steel construction will insure a lifetime of reliability. Featuring the new negative-draft locking bar system, this mechanism relies on leverage rather than spring pressure to positively lock the blade in the open position for the ultimate in safety. This all adds up to oe of the most unique knives to ever be produced! From the open range to close quarrters, the Tomcat will travel anywhere and everywhere.
Pictures:
Page last updated: Monday, August 13, 2012 05:27:44 PDT

---