SOG Seal Pup (Japan) – M34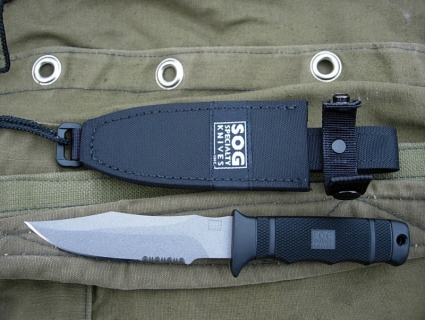 SOG Knives Collectors' Seal Pup (Japan) Review:
The SOG Seal Pup is the smaller version of the popular SOG Seal Knife 2000. Bearing the same excellent design and construction as its larger brother, the Seal Pup is a heavy duty knife that outperforms many similar knives of its size, and is durable and fitting for outdoor use. In a smaller package, the Seal Pup is made of the same steel that the Seal Knife 2000 was tested to endure, so it can be trusted to provide the same durability. The powder coating gives it extra resistance against corrosion, whether this knife is used in an outdoor or saltwater environment, in addition to giving the knife lower reflectivity (not that it matters to us civilians). Most users of the Seal Pup have nothing but good comments about it and it is a highly recommended knife. With a blade length of 4.75″, the Seal Pup is a perfect size for carrying on a camping trip and still perform most bushcrafting tasks except chopping.
The Seal Pup is also the building model for the Seal Pup Elite, which offers a thicker blade and several changes, including the option of a plain edge. The Seal Pup has not been discontinued from SOG's production line, but its production has been shifted to Taiwan and is no longer produced in Seki, Japan.
Copyright © Notice: If you plan to use our information (eg. selling your knife on Ebay), please cite our website by saying "Information taken from: http://www.sogknivescollectors.com" or mention our website.
Specifications:
Blade Length: 4.75 in. x .160 in.
Overall length: 9 in.
Blade Steel: AUS 6 Stainless Steel (older productions feature 440A steel)
Blade hardness: Rc. 56-57
Blade Finish: Powder coated
Weight: 5.4 oz.
Edge: Partially serrated
Carry System: Kydex sheath (older versions come with nylon sheath)
Handle Material: Zytel
Knife Type: Fixed Blade
Country of origin: Japan
Part #: M37
Rarity Details:
Last Known MSRP: $<.>
Production dates: 1995 – 2006
Production numbers: ?
Limited run?: No
Other things of interest:
Rarity index: 7/10 (10 being the most rare)
Rarity index scale (1 to 10, 10 being the most rare):
1 – Very common; easily available on ebay, google product search and almost every knife selling website. Spammed with at least 10+ listings on ebay.
3 – Has been around for at least 2 years and are selling reasonably w%ll, with retailers favouring other newer models over this knife.
5 – Knives that are on the borderline of being discontinued or have been discontinued for less than 6 months
6 – Products from 6 onwards are either discontinued or limited edition.
7 – Discontinued knives that pop up once every few months on the "For Sale" part of forums or on ebay. Still can be found at a few online shops though.
8 – Knives that need lots of researching to find. Not available anymore in online knife shops and pop up (if you're lucky) >4 months for one at a time.
9 – Knives holding this rarity are the shadowy kind. You can't find any information on them at all (not even from online knife shops that have not taken down that knife%r7s product page). If you see one for sale grab at all cost.
10 – The rarest of all knives. If you hadn't been here you wouldn't even have known that it existed. Should you have one of these you better lock it up in a triple-combination safe and treat it like a family heirloom…
Product Description:
Our flagship is a replica of the original knife used by the Vietnam War Eras 5th Special Forces Group known as the Studies and Observation Group (SOG). Secretly developed and used in covert missions, the SOG Bowie was a steadfast companion in one of the harshest environments in the world.
The Seal Pup is the mini rendition of the Seal Knife 2000. It offers the same durability and performance and is an excellent field companion for outdoor and underwaters adventures.
Pictures:
Page last updated: Thursday, August 02, 2012 00:47:52 PDT

---