SOG Trident S2 Bowie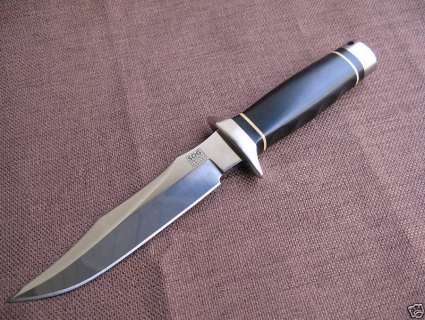 SOG Knives Collectors' Trident S2 Bowie Review:
Here's the *second* ever knife that SOG produced! Building on its branding with the US Special Forces, SOG produced the 'Trident' knife in honour of the US Navy SEALs. This knife bears a striking resemblance to the original S1 Bowie, except that it uses a different blade steel and micarta handles – a very much modern make-over of the S1 Bowie. The Navy SEAL emblem can be found engraved on the right side of the blade. Unlike other old SOG bowies, the Trident does not have 'S.M.CA' or 'EDM.WA' engraved below the SOG logo which some other knives may have.
The Seki-Japan made SOG Tridents hae been discontinued, but a similar version is currently being produced in Taiwan (renamed as 'Trident 2.0'), along with the majority of SOG's fixed blades. The model we are talking however was produced in Seki, Japan. Older versions of the Trident can be identified by the "Seki Japan" engraving on the knife and the thicker white (oldest versions have aged yellow) washers on the handle. Also note that the newer Taiwanese produced 'Trident 2.0' has a longer 6.4″ length and a smaller thickness of .240″.
Copyright © Notice: If you plan to use our information (eg. selling your knife on Ebay), please cite our website by saying "Information taken from: http://www.sogknivescollectors.com" or mention our website.
Specifications:
Blade Length: 6.25 in. x .280 in.
Overall length: 10.75 in.
Blade Steel: AUS-8 Stainless Steel (earlier versions have 440C steel)
Blade hardness: Rc. 57-58
Blade Finish: Satin-polished
Weight: 12.3 oz.
Edge: Plain
Carry System: Leather Sheath w/ sharpening stone (earlier versions have condura or nylon sheaths)
Handle Material: Stacked Micarta washers
Knife Type: Fixed Blade
Country of origin: Japan
Part #: S2
Rarity Details:
Last Known MSRP: $
Production dates: 1986? – 2004
Production numbers: ?
Limited run?: No.
Other things of interest: One of the first few models off SOG's production line. 3 versions of the knife were produced.
Rarity index: 8.5/10 (10 being the most rare)
Rarity index scale (1 to 10, 10 being the most rare):
1 – Very common; easily available on ebay, google product search and almost every knife selling website. Spammed with at least 10+ listings on ebay.
3 – Has been around for at least 2 years and are selling reasonably w%ll, with retailers favouring other newer models over this knife.
5 – Knives that are on the borderline of being discontinued or have been discontinued for less than 6 months
6 – Products from 6 onwards are either discontinued or limited edition.
7 – Discontinued knives that pop up once every few months on the "For Sale" part of forums or on ebay. Still can be found at a few online shops though.
8 – Knives that need lots of researching to find. Not available anymore in online knife shops and pop up (if you're lucky) >4 months for one at a time.
9 – Knives holding this rarity are the shadowy kind. You can't find any information on them at all (not even from online knife shops that have not taken down that knife%r7s product page). If you see one for sale grab at all cost.
10 – The rarest of all knives. If you hadn't been here you wouldn't even have known that it existed. Should you have one of these you better lock it up in a triple-combination safe and treat it like a family heirloom…
Product Description:
This knife is named after our most capable special forces unit, the Navy SEALS and displays its emblem… the Seal Trident. The Trident represents the accomplishments of a man who has undergone the most rigorous training program that can be devised to produce the consummate warrior. Only a select few are accorded the right to wear the Trident on their uniform.
Our Trident knife embodies this spirit with its exacting and meticulous construction. Features such as our all stainless steel construction, surgically precise hollow grinds, laser cut micarta washer handles, aircraft spanner nut pommel assemblies, etc… it will guarantee sophisticated performance at any altitude or depth.
A non-engraved option is also available on special order.
Pictures:
Page last updated: Monday, November 01, 2010 22:54:02 PDT

---